It all started with my desire to keep a memento of my beloved dog, who had been with me for many years.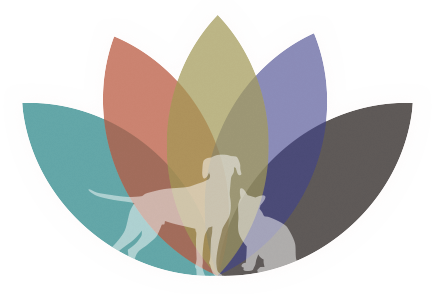 Memory Box Karen is a fine article completed with materials and craftsmanship of the traditional Kawanabe butsudan (Buddhist altar), a traditional craft handed down in Kawanabe, Kagoshima.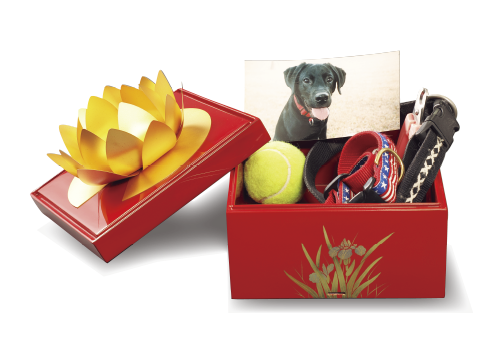 You can use Memory Box Karen in any way you like.
For example, it can hold photos of precious memories or as a jewelry case.
Memory Box Karen will surely keep your precious items close to you.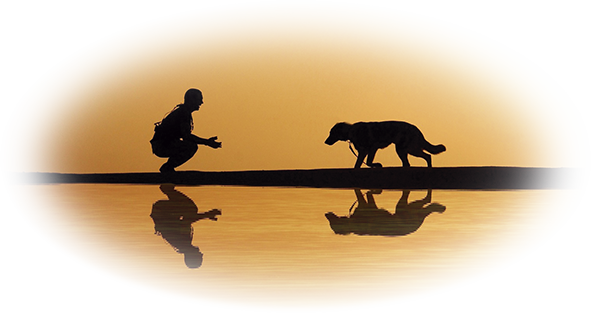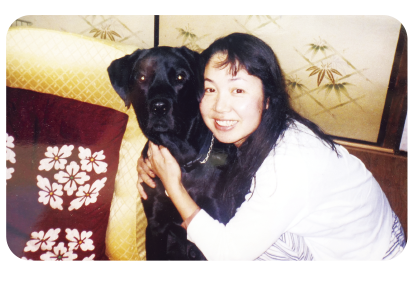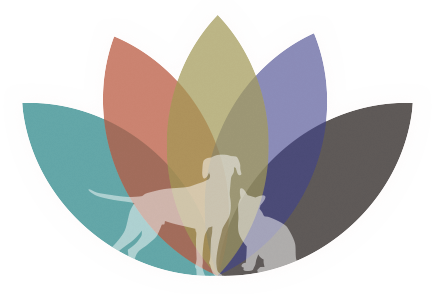 joined together to create the beautiful
Memory Box "Karen" with their craftsmanship and sincerity.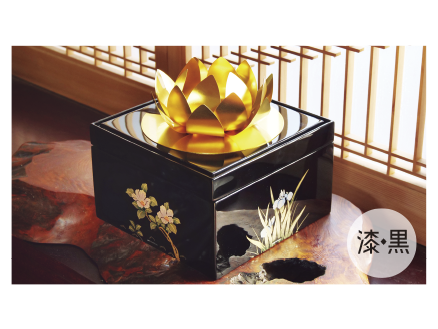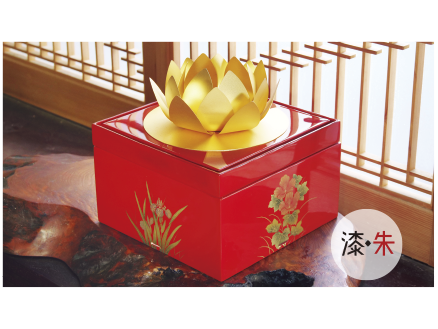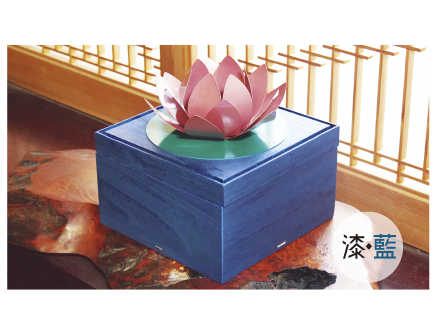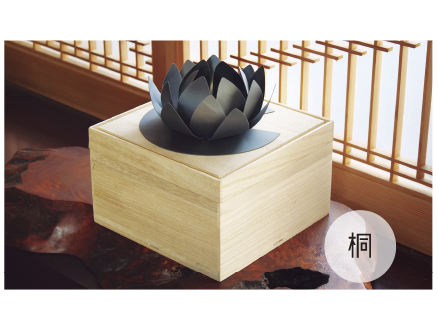 Size: Length / 194mm x Width / 194mm x Height / 117mm Water lilies height / 65mm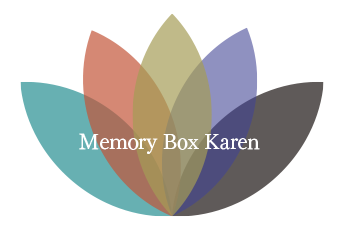 More compact and accessible.
We hope that our memory box will catch many people's attention.
We are pleased to introduce the newest addition to our popular Memory Box Karen, the Princess Series. The box size has been redesigned to be more compact while maintaining traditional craftsmanship and materials.
The new small box combines the dignity of lacquer with modern colors, allowing you to treasure your great memories close at hand.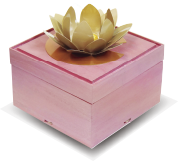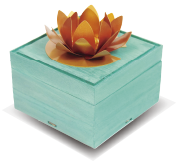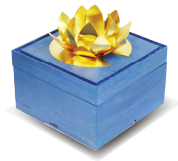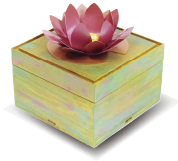 Size: Length/150mm x Width/150mm x Height/840mm Water lilies height/450mm
The craftsmen of Kawanabe Butsudan, a traditional craft, joined together to create the beautiful Memory Box "Karen" with their craftsmanship and sincerity.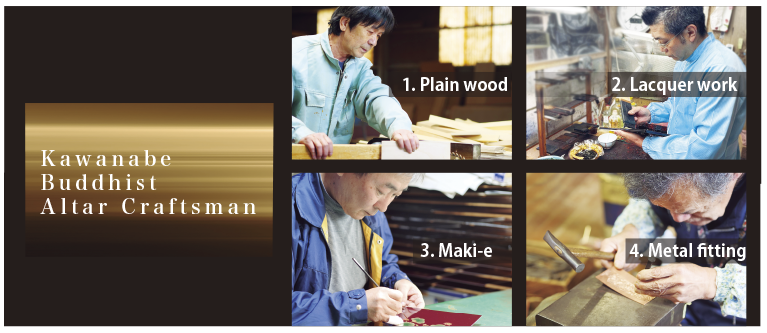 Plain wood: Hiromi Katahira (traditional craftsman with 42 years of experience), Katahira Woodcraft
Lacquer work: Masaki Nakazono (traditional craftsman with 37 years of experience), Nakazono Buddhist Altar Lacquerware
Maki-e: Chihiro Hokazono (traditional craftsman with 44 years of experience), Hokazono Buddhist Altar Maki-e
Metal fitting: Shinya Kawahara (55 years of experience), Kawamura Metal Fittings Manufacturing Co., Ltd.

<Handling Instructions>
The small box and lid are a pair.
Before use, the lotus flower is fixed upside down on the lid. Gently lift the top part and turnover it, so the lotus flower is on the top, then place it on the box.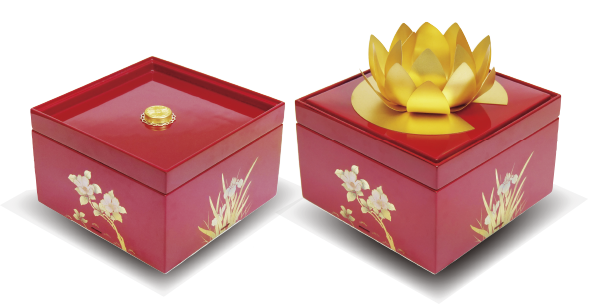 <Cautionary Points>
The lotus flower is made of relatively soft copper and may become deformed. In such a case, please adjust the balance by yourself.
The lotus flower is made of copper. The edges are processed to avoid injuries, but please keep them out of the reach of small children.
Please check the size of items you plan to store in the box. Please be aware that if you push in an item that exceeds the box's size, it may be damaged.
Lacquerware is vulnerable to UV. Exposure to direct sunlight for a long time may cause discoloration. Please avoid placing the box under direct sunlight.
<Specifications>
The wood material of Memory Box Karen is all-natural. Each piece is handmade, so the size and weight may vary depending on the cut-out portion and how the wood grain is packed.
Lacquerware coating is made of materials with extremely high durability, water resistance, heat insulation, and antiseptic properties.
<Care Instructions>
Wipe dry with a soft cloth like an eyeglass cleaner.
A special cloth (1 piece) is included with the Memory Box. Wipe gently along the wood grain with a fluff or soft cloth. Do not wipe with a wet cloth or wax.
(Paulownia wood is not lacquered nor applied with Maki-e)
Memory Box Karen is made of natural materials, so the size and weight may vary slightly from piece to piece.
Specifications and materials are subject to change, so please check with us in advance.